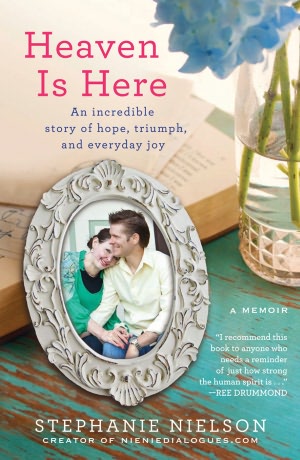 Heaven Is Here: An Incredible Story of Hope, Triumph, and Everyday Joy
I've been reading Stephanie's blog for years, even before the crash, so I felt like I knew quite a bit about her life before and after the accident and I was pleasantly surprised that there was so much more in her book that I didn't know. I remember certain posts from her blog and to read Stephanie's description about how those events took place really opened my eyes to what she has gone through and the type of person she has to be to remain so strong.
If you are not familiar with Stephanie Nielson, aka "NieNie" you need to take a look at her blog and read this book, ASAP! She is a blogger who was involved in an airplane crash along with her husband and she was burned over 80% of her body. Her strong faith has helped her remain positive even after overcoming so many mental and physical difficulties after the crash. She had 4 small children when they had their accident and recently added a much wanted 5th child, Charlotte, in earlier this year.
If you read her blog and like her then I think you'll appreciate this book, very inspiring! If you read her blog and feel snarky, you might get a better understanding of why she has made certain decisions, or her thought process behind things and what she was going through during all her struggles post-crash